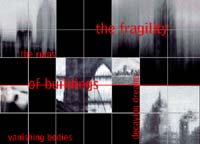 Biography
Jody Zellen is an artist living in Los Angeles, California. Her web site GHOST CITY will be in the LA Freewaves festival and in the 6th Annual New York Digital Salon in the fall of 1998. GHOST CITY was included in the festival "film+arc. graz 3" in graz, Austria in 1997. In her websites, installations and artist's books she explores the subject of the city. She has exhibited her work nationally and internationally including solo exhibitions at Jan Kesner Gallery (Los Angeles, 1998); Post Gallery, (Los Angeles, CA, 1998, 1997); Mesa College Art Gallery, (San Diego, CA, 1997); Richard Heller Gallery (Santa Monica, CA, 1996); SF Camerawork (San Francisco, CA, 1995); The Centre for Contemporary Photography, (Melbourne, Australia, 1995); and The Dorothy Goldeen Gallery (Santa Monica, CA, 1993). Her work has been included in group exhibitions at the Los Angeles County Museum of Art, The Huntington Beach Art Center, The California Museum of Photography, Riverside, CA and at the Laguna Art Museum, Laguna Beach, CA. She recently completed a public art project sponsored by the Los Angeles County Museum of Art for a display window in central Los Angeles as well a temporary piece in Hollywood, CA., (1994-1997) entitled "The City Never Sleeps" that consists of twenty-two eight-foot square black and white photographs. She began the website GHOST CITY while an artist in residence at the Banff Centre for the Arts in Alberta, Canada. Her work has been published in the "The Architecture of Fear" (1997, Princeton Architectural Press); as well as in publications including "Zyzzyva," "Art Papers," "New Observations," "Frame-Work," and "White Walls." She is a recipient of a 1998 California Arts Council Grant and 1997 Aaron Siskind Fellowship.
Conceptual Description
GHOST CITY is a website that focuses on the representation of the city by the mass media. It is a labyrinthine environment through which viewers can navigate, either following the linear narrative that unfolds by moving from page to page, or they can delve into the non-linear chaos of random links. Each space is made up of appropriated images and texts. The images are culled from various print media sources. The texts are either found passages from urban theory or specifically written poetic musings on the city. Rather than present static images, GHOST CITY is a collage of moving parts. It is a pulsating grid of flashing images that loop indefinitely. The viewer is an urban wanderer moving through the site, step by step, page by page. One moves forward and back retracing ones steps within the urban grid, discovering new spaces and new meanings. One clicks on a word: "walk" "time" "space" or an image of a silhouette, a shadow or a facade. The movement freezes, a color flashes and you are someplace else. One by one a new grid of images appear. Some seem familiar. Have you been here before? GHOST CITY is about memory, and about traveling through time and space. The time is infinite. The space is finite. It is cyberspace. Yet the time and space of GHOST CITY metaphorically relate to the experience of the city where people walk and talk and interact. Within the confines of GHOST CITY visitors can pause and think and move backwards and forwards. GHOST CITY is a city of fragments. A memory. A ghost of reality. A ghost city.