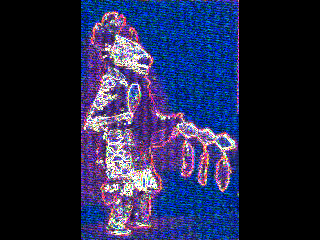 Biography
Dennis Summers was graduated from The Ohio State University in 1985 with an MFA in Experimental Media. He has exhibited large scale installation and performance art throughout the U.S. and elsewhere since then. Owing to being more or less in the right places at the right times, he has had a parallel career in computer graphics; specifically 3D animation for the last 9 years or so. The two careers have overlapped on occasion, and "Crosslinked Genome or Data Fugue" is one such project. This disc was funded in part by a grant from The Arts Foundation of Michigan in conjunction with the Michigan Council for Arts and Cultural Affairs. Most recently Summers has been teaching courses for the Animation and Digital Media Department of the Center for Creative Studies in Detroit, MI.
Conceptual Description
Summers has made several artist's books in the past, and the idea of creating a non-linear artist's book was irresistible. When he was able to pick up Oracle Media Objects around 1995 (for a reasonable price) he began work on "Crosslinked Genome or Data Fugue." Playing to the power of what a computer does best, he collected a great deal of texts and images which could be accessed by "players" in 3 different interfaces. The general theme is the shifting nature of our perceptions of reality, but this branches out to include a wider variety of topics. The data is taken from disciplines such as quantum physics, linguistics, australian aborigines and more. Each interface has its own distinct flavor, but the general idea is that the player creates an everchanging collage made of texts and images. No two experiences will ever be the same.