Arlene STAMP
Modern Mother
1998
Canada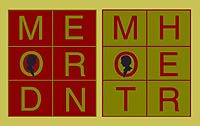 Biography
Arlene Stamp is a Canadian artist who has exhibited regularly for the last fifteen years across Canada and more recently in the United States. Her work has been characterized as primarily conceptual in nature and often deals with the gaps and patterns inherent to the systems we use to organize our experience.
Arlene Stamp trained first in mathematics, graduating from University of Western Ontario in 1960. She attended the Alberta College of Art and Design as well as the University of Calgary for her art training and graduated in 1982. She is currently represented by Trépanier Baer Gallery in Calgary, Alberta and Wynick/Tuck Gallery in Toronto, Ontario.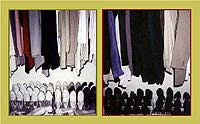 Conceptual Description
"Modern Mother" is my first website project and was developed in collaboration with Shelley Ouellet for vanitygallery.com . It is part of an ongoing project developing out of the "Mum Tapes," a set of audio tapes I made with my 80-year-old mother in 1995. In these tapes, my mother tells many stories from her long life in an uproariously animated and unflinching manner and was a willing collaborator in their public release. "Modern Mother" uses short excerpts from these audio tapes in juxtaposition with the romantic lyrics of popular songs, the background music of our home during my growing up years.
Perhaps it is in the very personal details of one woman's life that we find the pieces of every woman's life. It is a little like a mystery investigation. One gathers evidence but the more one gathers, the more complex the picture that emerges, making this one person both harder to figure out and more encompassing of other women at the same time.
email stampa@cadvision.com