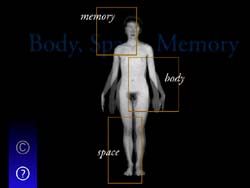 Biography
In February of 1993, ad319 was born from the simultaneous efforts of three artists and designers trained in traditional mediums, all of whom were attempting to embrace new digital technologies. The founding members of ad319 were Kathleen Chmelewski, Nan Goggin, and Joseph Squier. The idea of working as a collective seemed an effective way to pool our knowledge, and an efficient means of addressing the issues we face as contemporary artists, designers and educators. One outgrowth of this collaborative approach has been the @art gallery (www.art.uiuc.edu/@art), one of the first curated art sites on the web. As co-curators and founders, we collaborate with selected artists to create new web-based artwork. In 1995 we curated an international digital exhibition, "Art as Signal: Inside the Loop", for the Krannert Art Museum.
Conceptual Description
"Body, Space, Memory" [BSM] was ad319's first collaborative artwork, and also signal the addition of Robb Springfield as the group's fourth member. BSM was produced both in CD-ROM format and on the web. The piece uses the human body as a repository for memory and emotion, and explores the notion that particular memories take up residence in very specific physical locations. The idea is to allow the viewer to navigate this terrain by using the human fiqure as both a map and a metaphor. BSM was very favorably reviewed by HotWired in April of 1995 and was exhibited at the Centre George Pompidou in Paris from November 1994 to January 1995.
Our most recent project, still in prototype, is in[side]out. This piece is a parable about public and private space, using an anonymous hotel room as it's metaphor. Viewers can "check-in" to this virtual room, but what they find is that it is still occupied by its two previous guests. The relics and evidence of habitation are still present: clothes, book bags, used glasses, notes, and other evidence from everyday life. It becomes the viewer's task to unravel the mystery of these two people. Who were they? What did they mean to each other? Why were they together in this place?
The hotel as privacy-for-hire sits at the boundary of public and personal life. When viewers "occupy" a room that is in essence not yet vacated, they unwittingly cross the threshold into a shared private space. Once in the room, they can move about and touch objects, which then tell their stories, much like the ancient concept of a "memory palace". Each object provides more information about the two former inhabitants, in the form of fragments of conversation, phone messages, personal notes, and memory vignettes . Besides VRML, the piece also makes extensive use of digital video and audio. The piece, while serious in tone, also utilizes a healthy dose of humor to enrich the texture and pacing of the work.
As "occupants" explore the room, they will also discover a note pad and pencil which allows them to contribute their own stories to the piece.
As the story unfolds, the metaphor subtly shifts. Viewers come to realise that, in this space, the two former occupants were negotiating the meaning and boundaries of their own relationship. The hotel room then begins to represent the shape and limitations of that relationship. Ultimately, viewers are engaged in questions about trust, intimacy, desire, and commitment. The public/private dichotomy, which began as a question of space, is expanded to include our bodies and minds as well.