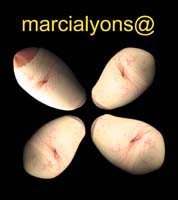 Biography:
Marcia Lyons is an experimental media-maker interested in developing a synthesis between traditional media and digital processes, and is the head of Digital Media Fine Arts at Cornell University and director of the www.mediartspace.cornell.edu. She is a recipient of the Rome Prize and NEA awards and she has exhibited widely in the U.S. and Europe. She is represented by Alexandre de Folin Gallery in New York, where "N2blak, a series of seeded bodies" was recently shown. Currently, she divides her time between her lab in Ithaca, NY and her studio in NYC. For more information: http://www.marcialyons.com
Conceptual description
marcialyons@ In this cdrom catalogue of new work, " N2blak...a series of seeded bodies ", Marcia Lyons uses digital animation projection and print to immerse the viewer into an intense image environment.

When asked about the work, Marcia is quoted as saying, "It's definitely not airtight, there's a sort of fluid that keeps it breathing." The geneology for this work began several years ago in a focus of re-figuring and therefore re-constituting an interest in the body. Marcia, quoted as saying, "This isn't like `doing the math'...although you know it's in there somewhere in order to exist at all...if you had been there when I was making N2blak..., you would have followed the logic all the way through. Yet, the closer I got to the end, all that logic seems to have vanished. I can't explain it, even if I wanted to." Ironically, it's her rather narrow compressing gaze, literally sourcing her own mouth as the root of all of this imagery, that expresses the artist's unique point of view...or as one writer is quoted..."her forms are allowed to morph and mutate undisturbed by any outward repression."

The nature of presentation, video installation and sound, to introduce this new form (or presence)...sets up a kind of optimal spatial setting to imply a nostalgia with the "felt" typical of most experiential formats. Her point is..."I am wondering if the viewer will vibrate sympathetically with the character...what's the effect? In a funny way it's not about body at all, at least not by itself."