Reggie WOOLERY
Marcha de un millón de hombres/La red
1997
E.U.A.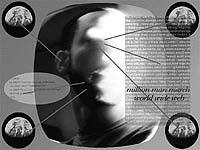 Biografía
Reginald Woolery es un artista visual y escritor que vive en la ciudad de Nueva York. Sus videos Converse, Playing in the Light, y Thirty-Eighth Parallel han sido presentados en universidades, bibliotecas, museos y festivales en Estados Unidos, Europa y Canadá. El CD-Rom Million Man March/World Wide Web, una meditación sobre la identidad y la comunidad, se presentó por primera vez como parte de Traslocations, una exposición de fotografía en nuevos medios, instalación y arte digital en The Photographers Gallery, en Londres. Actualmente trabaja en Keep your Handsa Off the Park: A Roleplaying Game in Real and Virtual Worlds, que es un juego de mesa e Internet que invita a los participantes a un juego divertido, aunque crítico, sobre la democracia, la identidad y la esfera pública. Actualmente está realizando la investigación para Handsa como parte de su trabajo como docente en la Society for the Humanities en la Universidad de Cornell 1998-99. Los textos de Woolery sobre arte en nuevos medios han sido publicados en Trans, Bomb, Black Film Review y Fuse, una revista de arte y cultura de Toronto, Canadá, en la que es editor ocasional.
Se pueden encontrar artículos sobre su obra en Parachute, The Independent y Afterimage. Reginald Woolery ha sido maestro de producción e historia del cine y video en la universidad de Nueva York, Rutgers University, la Universidad de Long Island y The New School for Social Research.
Ha realizado trabajos en torno a la educación artística para programas juveniles en la School of Visual Arts y Cooper Union College of Art. Recibió su licenciatura del Parsons School of Design y una maestría del New York University's Interactive Telecommunications Program. Reginald ha trabajado para tres distribuidores no lucrativos de medios educativos y artísticos: Black Filmmmaker Foundation, Third World Newsreel y New American Cinema Group. Durante este tiempo organizó muestras de video experimental y sobre temáticas sociales para Artists Space, American Film Institute, The Brooklyn Museum, Bard College y The Images Festival, Toronto, entre otros. Woolery ha recibido apoyo para desarrollar su trabajo artístico de The New York Foundation for the Arts, The Sidney Poitier Foundation, The Lew Wasserman Foundation, Helena Rubinstein Foundation, Art Matters, Banff Centre for the Arts, The New York State Council on the Arts y The Independent Television Service.
Descripción Conceptual
Es una meditación sobre la paranoia y la utopía de la identidad y la comunidad.