Rae DAVIS
relic/relique
1999
Canada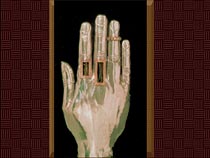 Biography
Performance and installation artist Rae Davis lived and worked in London, Ontario from 1957 to 1987, when she moved to Toronto. She was a free-lance theatre director for 15 years, producing the work of Beckett, Lorca, Gertrude Stein, and others. The nature of her work evolved from theatre to performance art and installation, in relation to language, architecture, scientific knowledge and kinetics. She has created over 25 performance works, many of substantial length with as many as 8 performers. A major commissioned work, VANISHING ACTS, was shown in 1986, accompanied by a retrospective catalogue.
In the 90s her activity in installation has increased. Her latest work SURGE (for film, video, and sculptural component), in collaboration with artist-filmmaker Barbara Sternberg, was shown at the Windsor (Ont.) Art Gallery in December 98/January 99 and will travel to articule in Montréal in September 99.
Davis exhibited works relating to the computer in 1966, 1982, and in 1999, a CD-ROM piece for La Centrale, Montréal.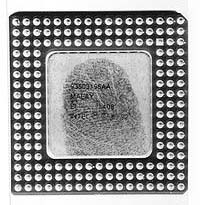 Conceptual Description
In relic/relique, the hand, so far a crucial connection between brain and computer, becomes a metaphor for time, change, and loss. An analogy is drawn between a 15th century reliquary hand and the computer, both offering access to expanded information, both functioning as archives. As the reliquary hand is replaced by the human one, the work presents a layered meditation on the theme of disappearance, with the suggestion that the use of the computer reduces and changes the function of the human hand as a crucial tool, affecting the brain's creative processes.
This work was done with multi-media consultant Daniel Lowenberg.