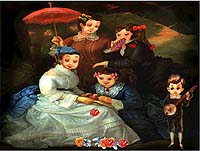 Biography
Cristina Casanova (Lleida -Spain- 1964), designer, photographer, writer and computer artist. e-mail ccs@arrakis.es After studying Fine Arts in Barcelona in the specialty of Photography, Cinema and Video, she works until 1996 as a photographer and designer for various companies and publications and as still photographer in long feature films. As a photographer, she has made national and international exhibitions and has obtained the second prize of the Concurso Nacional de Fotografía (1990), and as a writer she has also won several prizes in Spain - first prize in the Concurso de Cuentos Infantiles (Ciudad Real, 91), third prize in the Concurso de Cuentos Caribeños (Barcelona, 1996) , third prize in the Premio Montserrat Roig de literatura (Martorell, 99)
During 1996-1997 she studies Audio-visual Creation and New Technologies at the Institut de l Audiovisual de la Universitat Pompeu Fabra of Barcelona, and starts working on computer design, 3-D animation, interactive installations, CD-ROMs, web projects and electronic music. Her personal works include the awarded 3-D animation movie "Argument", based on the poem of the same name by Joan Brossa. She also collaborates with other video or performance artists, such as video artists Eugeni Bonet, Julian Alvarez, Konic Thr or La Fura dels Baus. As an electronic musician, she has recently participated on the Internet project and CD, FMOL, by Sergi Jordá and la Fura dels Baus, and she is also giving concerts with this virtual instrument.
Conceptual Description
Several malicious boys who have shared school, with playground, football, skirts and impertinent teachers who have taught them to be even more impertinent, get together years after inside a tale where years don't go by (or do they?) in order to tell their wicked stories, numberless lies trimmed with sentimentalism.
These stories form an interactive multimedia.
The interactive multimedia is perceived like an audio-visual, intuitive an ludic game. It doesn't need the written word to be appreciated.
At the same time, integrated within in one section of the interactive, we find a series of texts, the written stories, that offer a more intimate reading: we'll come across the names of the boys who are the main characters in the CD-ROM and their secrets, stated by means of the words.
In the interactive CD-ROM, the written tales appear at the end of the tale, once you have visited the audio-visual/interactive stories and you want to know more about them.
In the audio-visual stories the wings of imagination fly. You can play, have fun, investigate, and get lost. The navigation is strictly intuitive. The mouse changes its shape depending on the different scenes it is in. There are no specific buttons of navigation: it is you playing with boys, or boys playing with one another. It is like a game of tales with symbols and references here and there, a mixing up of memories from our childhood and a sort of new reading of these memories made from an adult's point of view, and each one of us can enjoy them in their own way.
You learn to use it quickly. It is convenient not to know much about these tales before starting to read them. Then, the word can get us nearer these little people with whom we are playing; because the written stories put us within this unity.
The tales, which are naïve or apparently naïve and turn on some kids' lives, talk about waiting, hopefulness, disappointment, tricks, expectations. Tales centred on love. And on time, on different temporary stages: emotional states, vital phases, generational states. The time freezes during a waiting moment, within imagination or within dreams; the time passes by as we share it with these children, who are explaining timeless details about the lives they lived together; thus stories become seemengly inmune to the course of time.
However, it is not so, particularly at the last moment, when the interactive becomes the primary way to transmit the fatal final end. Suddenly, the kids have grown up -or perhaps, due to their timeless nature, we realise they always were infants and adults at once.
The last moment arrives for their lives too. The children are still there -their faces have carved, however their lives are still nourished by successful and failed love affairs, ailments of old age, accentuated characters and the sound of their laughters as you click on each of them with your mouse. One by one, the children disappear from the screen while the veredict-clock ticks; they are disappearing from this game, from this made-up world inhabited by eternal naughty kids, who fell in love and laughed. Now it is them who, in ignorance, pass away under the effects of the click of the mouse in your hand.