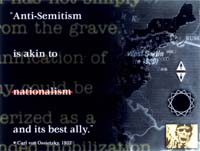 Biography
Hans Breder, currently F. Wendell Miller Distinguished Professor of Art at The University of Iowa, is also Head of the Intermedia & Video Art Area which he founded in 1968. In 1997, he convened the Liminoid Laboratory which premiered its first event at the 1998 conference of The International Association for Philosophy and Literature, UC-Irvine, California. Exhibitions include three Whitney Biennial Exhibitions, Whitney Museum of American Art, New York, New York (1991,1989,1987); " '68 - Kunst und Kultur," Bauhaus Dessau, Dessau, Germany, 1993; The First Group Exhibition of American Art in Moscow, 1989; The 3rd Fukui International Video Biennale, Japan, 1989; 2nd Videonale, Bonn, Germany, 1986; "International Architecture Exhibition," Technische UniversitŠt, Berlin, Germany, 1884; The Kitchen, Center for Video And Music, New York, New York,1975; "Kineticism: System Scupture in Environmental Situations" (Cultural Olympiad), Museo Universitario de Ciencias y Arte, Mexico City, 1968.

Conceptual Description

The Nazi Loop ponders the horror of the Holocaust and the social diseases which characterized it: ethnocentrism (belief in the inherent superiority of one's own group and contempt for other groups and cultures), xenophobia (fear and hatred of foreigners), and antisemitism. Images and text from Weimar and Nazi Germany are woven into a complex montage which includes representations of contemporary neo-Nazi propaganda and that of its oppositional resistance. Also woven into this montage are essays by social thinkers which reflect upon the meaning of the horrific historical moment of the Holocaust. This project operates on many levels. Certainly, it argues that the obsessive ethnocentrism, xenophobia, and anti-Semitism of past times and other places is cyclical and present here, now.